President Trump's "Deal of the Century" has been applauded by many who love Israel. Those who see the Jewish people in Israel as "occupiers" are outraged and call it "absurd." Then, there are those who like the positive elements, which are in favor of the Jewish people but dislike "dividing the Land."
The 181-page document, the first peace plan composed by Zionists, calls for a two-state solution with the location of Palestine just outside the Old City. If accepted and conditions followed, Trump promises billions to help the Arab economy and well-being. The plan is "an invitation to both sides for serious engagement" (Jerusalem Post). It's written in easy to understand language posted to this government site: Peace to Prosperity.
"Jerusalem should be internationally recognized as the capital of the State of Israel. Al Quds (or another name selected by the State of Palestine) should be internationally recognized as the capital of the State of Palestine".

Peace to Prosperity, Trump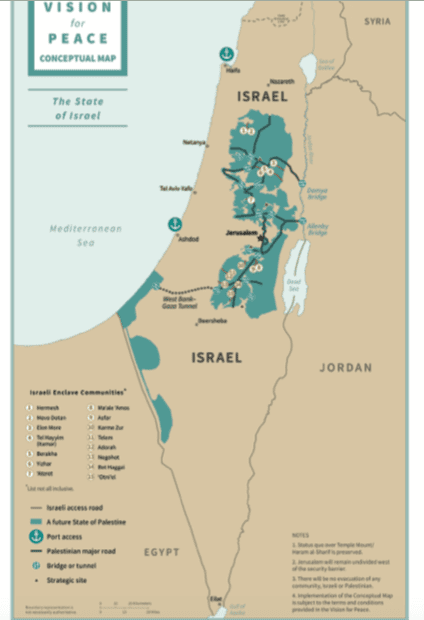 Not dividing Jerusalem, plus sovereignty of Israeli land that includes annexing the Jordan Valley would mean greater security. The Jews have longed for a place of safety for over 2000 years.
Saudi Arabia, Bahrain, Oman, the U.A.E., and other Arab nations urged Palestinian leaders to consider Trump's plan and begin negotiations. The Wall Street Journal explained that Trump viewed these leaders as "Pivotal to shifting dynamics in the Middle East to benefit Israel." A uniting of an Arab coalition is significant to Bible prophesy. To be at peace with all of Abraham's descendant has been longed for since Jacob and Esau parted ways.
So what harm is done? Since it unites in so many ways, does Joel 3:2 apply?
For one, Israel has to agree to pause construction for five years. Second, every time land had been given for peace the Jewish people received violence. The third reason is that it divides Israel.
Prophesy has proved to be reliable about the rebirth of Israel even though she was exiled on four occasions. God's end-time events hinges on her return and restoration in the land (Ezekiel 37:12-14; Isaiah 66:8; Hosea 3:5, and others).
Mark Twain once asked the question: "What is the secret of his immortality?" (1897). He was speaking of the Jews, the most hated and hunted people in all of human existence, and the only ones who survived such atrocities.
We can answer his question with a quote from Jeremiah 33:25-26: "This is what the LORD says: 'If I have not made my covenant with day and night and established the laws of heaven and earth, then I will reject the descendants of Jacob and David my servant and will not choose one of his sons to rule over the descendants of Abraham, Isaac and Jacob. For I will restore their fortunes and have compassion on them'" (NIV).
Abraham was given a covenant that obligated his descendants through Isaac, and then through Jacob, to worship the one true God, to be keepers of His Land and Law, and to be a blessing to the world. Should they fail in any part, God promised punishment (1 Kings 9:6-7).
On 4 occasions Israel and Judah were removed from His land because of sin (Jeremiah 16:18). The Beast of Daniel 7 is a picture of Israel's subjugators for us to consider:
423 BCE – 372 BCE Babylon Nebuchadnezzar
372 BCE – 348 BCE Media/Persia Darius
371 BCE – 140 BCE Greece Antiochus
69 CE to Present                  Rome                 Titus and others
Not only do we read about Israel's exiles and destructions from Scripture, but history tells the tragic story as well (Jeremiah 29:18-19).
1096 1stcrusade throughout Europe and Israel, –innumerable Jews killed.
1144 Blood libel rumor began, which lead to deep antisemitism in the middle ages and forward –thousands of Jews killed.
1478 Spanish Inquisition
1648 Cossack Riots – pogroms which lead to the starvation and massacre of thousands of Jews in Ukraine.
1918 Russian revolution, which lead to the death of millions of people and at least 60 thousand Jews.
1935-48 Holocaust, at least 6 million Jews massacred.
1948 Jewish state established. Thousands have died defending the God-given Homeland.
Since they have been conquered many times, many people believe the Jewish people relinquished their right to return or to claim the land as their own. However, it is God's Land—land that He promised to the children of Israel…promises kept that He would return them (Hosea 3:5).
"The land must never be sold on a permanent basis, for the land belongs to me. You are only foreigners and tenant farmers working for me."

Leviticus 25:23, NLT
Very often I hear terms used of Israel such as "Jewish Occupation," "The West Bank," and "Palestine." May I tell you that all of these terms are misnomers. Jews that live anywhere in Eretz Israel (Israel proper) are not occupying—they are developing their legally owned homeland just as the above scripture describes.
The Bible gives them a larger portion of land that extends beyond the present borders, which has borders with Lebanon on the north, Syria and Jordan to the east, Saudi Arabia (just a slither) on the southeast, Egypt to its extreme south and the Mediterranean Sea to its west.
Legally, beginning in 1918 with the Balfour Declaration, this land was given as a homeland for the Jewish people. It was divided in 1948 and again in 1967 with permission (and encouragement) of the Jewish legislation to appease their Arab co-habitants for the sake of peace.
In recent history, global leaders have structured many agreements—some good and some very bad. Each deal gave Israel a little less land.
In 1949 Trans-Jordan annexed land between the middle of Jerusalem to the Jordan river and called it the "West Bank" (Judea and Samaria).
In 1982, Israel would return the Sinai Peninsular to Egypt.
Oslo 1 and 2 – 1993 and 1995. Gave PLO self-government. Israeli authorities pulled out of Palestinian territories. Land given for peace. A Palestinian state within Israel was not offered.
In 2000, President Clinton convened a peace summit between Arafat and Ehud Barak that offered 66% of the West Bank.
In August 2005, Prime Minister Arial Sharon expelled almost 10,000 Israelis from Gaza. Some speculate that Sharon spent the remainder of his life in a vegetative state of life as a result of dividing the land. The state of Israel suffered regular rocket assaults from Gazan Terrorist since that time.
President Barak Obama, just before completing his two terms in office, restored a decree drafted much earlier by President Jimmy Carter, which stated that the Jewish settlements inside the "West Bank" were illegal. The term "illegal occupiers" is now used to describe Jewish settlers. President Trump overturned the previous stigma and stated that Israeli settlements within Area C (West Bank) are not illegal.
According to Trump, his plan more than doubles Palestinian territory (Jpost). However, the plan recognizes Israeli sovereignty over major settlement blocs in the West Bank, promising to not remove any Israelis from their homes and also not removing any Arabs who currently live in Jewish land allotments.   
We don't feel this plan is going to bring peace at this time. If it did, we may have greater concerns than those we already have: "For when they shall say, peace and safety; then sudden destruction cometh upon them, as travail upon a woman with child; and they shall not escape" (1 Thes. 5:3). In fact, Isis has made strong declarations that threaten Jewry worldwide and disowned all Arabs who feel this plan offers solutions.
This is not to say that we should not pursue peace: "Depart from evil and do good; Seek peace and pursue it" (Psalm 34:14, NKJV). The Bible also tells us to pray for the peace of Jerusalem (Psalm 122:6a).
This is the kind of peace our president is seeking—to put an end to the crimes done against the Jewish people, to help bring the Palestinians into prosperity, and to bring peace to the Middle East.
Political leaders must understand, as do intercessors, that cruel rulers of this world are under the influence of a demonic regime. The strongest of negotiators will never be able to reason with the demonically influenced. One can reason and rationalize with flesh, but not with demons. The crimes done against the Jewish people through all of history is a demonized rebellion against God. Until God is ready for the anti-Christ to introduce the 7-year peace treaty, no Deal of the Century will be effective.
Here's a quote from a recent Jerusalem Post article: "The most dangerous response is from Isis, who is enraged: "By mentioning US President Donald Trump's "Deal of the Century" and asking the Muslim youth to ignore "the Hamas of apostasy and collaboration and its ilk, the factions of shame, the dogs of Iran and its base, foolish servants." ISIS evaluates that the Israeli implementation of the American plan by annexation of new Palestinian territories will provoke violent reactions of the young masses both in the West Bank and Gaza and it hopes to attract to its ranks many of this angry militant demographic and "lone wolves" (January 28, 2020).
We lean heavily upon the mandate that God will bless those who bless Israel. Prophetical fulfillment took place when Israel was re-established "in the last of days" (Isaiah 11:2; Micah 4:1-2; Isaiah 2:2-3), which was miraculous. The fact is that it is God's Land for His Name (2 Chronicles 6:5-6) upon which the New Jerusalem will descend and be the final capital of the world (Rev 21:2-3).
And I will make a covenant of peace with them, an everlasting covenant. I will give them their land and increase their numbers, and I will put my Temple among them forever.

Ezekiel 37:26, NLT
May those who love Israel prosper (Psalm 122:6b).